In the United Kingdom, Inter Faith Week 2017 will take place from Sunday 12 November to Sunday 19 November. England, Scotland, Wales and Northern Ireland will all hold Inter Faith Week events.


---
Building good relationships and working partnerships between people of different faiths and beliefs is part of the year-round work of many people and organisations across the UK. Having a special week provides a focal point, helping to open inter faith activity up to a wider audience so that more and more people are made aware of the importance of this vital work and are able to participate in it.
Get inspired for 2017!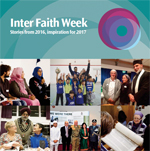 A new report on Inter Faith Week 2016, Stories from 2016, Inspiration for 2017, has now been published and is packed with pictures, key statistics, social media posts and media coverage from the Week. The report concludes with a short section looking forward to the Week in 2017. We hope that it inspires you to take part!
Some other useful links related to Inter Faith Week 2017:

The Inter Faith Week Toolkit is packed with suggestions for marking the Week and examples and illustrations drawn from the many successful activities held to date. It also includes practical guidance and links to further information.

Let's Talk: Practical pointers for inter faith dialogue is a booklet offering some short reflections and examples drawn from the work of IFN and its member bodies, with the aim of inspiring and encouraging further discussion and engagement in inter faith activity.

The Faiths Working Together Toolkit contains practical pointers for making contact, planning and publicising inter faith activities, and advice on key principles for engagement. The resource was produced in partnership between Near Neighbours and the Inter Faith Network for the UK.
Find out more about Inter Faith Week here.
WHERE?
ENGLAND, WALES, NORTHERN IRELAND
The Week in England is led by the Inter Faith Network for the UK, working with its member bodies. In Wales, the Inter-faith Council for Wales leads and in Northern Ireland, the Northern Ireland Inter-Faith Forum leads. Event listings for the three nations will appear, by agreement, on this single website.
SCOTLAND
Scottish Interfaith Week has been running with great success since 2004 and is led by Interfaith Scotland. Details about the Week this year can be found on the Scottish Interfaith Week page.